Ordinateurs
Composantes Périphériques Stockages Accessoires Sécurité Logiciels
FitnGrip Univ 9 10" Rot Tbt Cs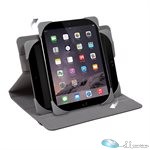 Description :
FitnGrip Univ 9 10" Rot Tbt Cs
Info :
The Targus Fit-N-Grip Universal Protective 360 Tablet Case provides essential protection for devices with 9"- 10" screens. . If you have an iPad or Samsung Galaxy, there are plenty of custom fit cases to choose from. If you have a tablet or eReader not quite as mainstream, the search for well-fitting protection can be frustrating but just got less so. For those in the latter category, the Targus Fit-N-Grip is protection designed with you in mind. The universal cradle securely holds your device in place with shock absorbing corners for added protection. The cradle also rotates to both landscape and portrait orientation, and can also be configured for optimal viewing and typing. A padded, leather-like exterior surrounds your table and is secured closed with a durable elastic band. The soft, plush interior protects the screen from scratches when the device is not in use. The back corner of the case folds down to expose the camera lens on most tablets. Black.
SKU :
THZ592CA
Catégorie :
Accesoires de portatif
Prix :
39.99$
*Paiments acceptés : Comptant, Carte de crédit (VISA, Mastecard). Pas de débit.
*Obtenez un rabais de 2% si payé comptant.
*Les prix et quantités peuvent changer sans préavis.