Ordinateurs
Composantes Périphériques Stockages Accessoires Sécurité Logiciels
eVGA Video Card 08G-P4-5173-KR GTX 1070 8GB DDR5 PCI Express 3.0 DVID/HDMI/3xDisplayport Retail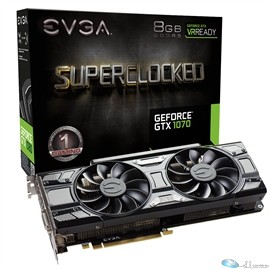 (06G-P4-5173-KR)
Prix :

867.99$
Description :
eVGA Video Card 08G-P4-5173-KR GTX 1070 8GB DDR5 PCI Express 3.0 DVID/HDMI/3xDisplayport Retail
Info :
<b>Simultaneous Multi-Projection

</b><br>
Simulates seperate viewports of the same scene giving improved performance in VR and improved display accuracy in NVIDIA Surround

<br><br>

<b>NVIDIA Ansel

</b><br>
Revolutionary new 360-degree image capture.

<br><br>

<b>NVIDIA G-SYNC

</b><br>
NVIDIA G-SYNC monitors feature revolutionary NVIDIA technology that eliminates screen tearing while also reducing input lag. The result is the smoothest, fastest, and most responsive gaming experience ever seen.

<br><br>

<b>NVIDIA GPU Boost 3.0

</b><br>

Dynamically maximizes clock speeds based on workload and allows enthusiast-class controls such as temperature target and fan controls, extra over-voltage headroom, and optimizations for water-cooling solutions. This allows gamers to push performance to new levels.
<br><br>

<b>Vulkan API

</b><br>
A next generation graphics and compute API from Khronos Group that provides high-efficiency, cross-platform access to modern GPUs.

<br><br>

<b>
PCI Express 3.0

</b><br>
This card is designed for the PCI Express 3.0 bus architecture, offering the highest data transfer speeds for the most bandwidth-hungry games and 3D applications. It also maintains backwards compatibility with existing PCI Express motherboards for the broadest support.
SKU :
06G-P4-5173-KR
Catégorie :
Cartes vidéo
Prix :
867.99$
*Paiments acceptés : Comptant, Carte de crédit (VISA, Mastecard). Pas de débit.
*Obtenez un rabais de 2% si payé comptant.
*Les prix et quantités peuvent changer sans préavis.