Ordinateurs
Composantes Périphériques Stockages Accessoires Sécurité Logiciels
Design Define S Black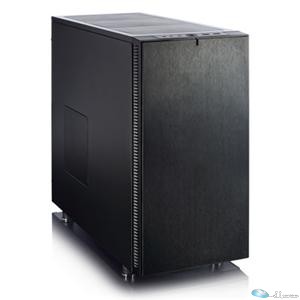 (FD-CA-DEF-S-BK)
Prix :

137.99$
Description :
Design Define S Black
Info :
The Fractal Design Define S lends the appearance, sound dampening technology, and support for a wide variety of components from the widely popular Define Series, while introducing a new internal layout. The Define S case is packed with intelligently designed enthusiast-oriented features delivering a silent case with expansive air and liquid cooling support. Innovative internal layout, providing a perfectly straight airflow path to the CPU heatsink for air cooling set ups or extensive radiator mounting possibilities for water cooling set ups. Including smart reservoir brackets; featuring drill-free reservoir mounting on the front of the motherboard tray and pre-drilled pump mounting holes on the bottom panel. Including two Fractal Design Dynamic GP14 140mm fans developed for superlative airflow while still maintaining low noise levels. An additional 2 dedicated steel SSD trays cleanly placed behind the motherboard tray
SKU :
FD-CA-DEF-S-BK
Catégorie :
Boîtiers
Prix :
137.99$
*Paiments acceptés : Comptant, Carte de crédit (VISA, Mastecard). Pas de débit.
*Obtenez un rabais de 2% si payé comptant.
*Les prix et quantités peuvent changer sans préavis.